Residential ventilation systems
The rise in energy-efficient building designs is increasing the need for ventilation systems. Ventilation systems must also be installed into most commercial buildings now to meet current building regulations. Energy efficient buildings require more insulation to reduce heating and cooling loss. This means that the air inside your building lingers longer and becomes stale. The stale air also puts your building at a greater risk for allergies, residual odours, condensation, mould and more.
Below is a list of the most common sytems available: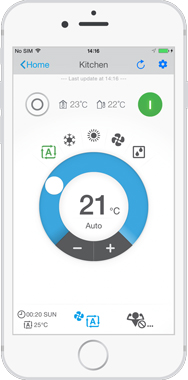 Stay on top of your energy consumption and running costs with user-friendly control systems. We believe that climate control should be simple, intuitive, smart and energy efficient.
Whether you are looking for a solution for your home or your business, we offer a variety of systems that will help you take control of your climate and provide optimal comfort.
With an online controller, you can take control of your climate from any location. Simply connect your unit to Wi-Fi and download the app. Available for iOS and Android, you can change the thermostat, set temperature schedules, review your energy consumption and develop your own "if this, then that" workflow.
Smart building management
We offer a variety of climate control systems to help you manage your building's energy consumption efficiently and optimise your comfort.
Individual control systems
Individual control systems allow you to control your climate directly with user-friendly interfaces and scheduling functions. Intuitive interfaces make controlling your climate easy and contemporary designs blend in seamlessly with your interior. You can also keep track of your energy consumption with visual display graphs.
Ideal for small commercial applications.
Individual rooms
Adjust the temperature, operating mode, air purification and fans for individual rooms with the interactive thermostat.
This type of system is similar to the previous except the extract air and fresh air are put through a form of heat exchanger prior to being exhausted and discharged into the space. In winter the warm air being extracted from the space heats the heat exchanger, this in turn heats the cooler fresh air being supplied back into the space, in summer the same principle acts in reverse. This type of system will provide cost savings to the previous type as the amount of energy being used to pre heat or cool the incoming fresh air is reduced. The AHU's can be manufactured to suit any application from domestic to commercial. Both Daikin and Mitsubishi provide an internal ducted heat recovery fan coil unit which can communicate with there respective heat pump systems installed providing a packaged economic highly efficient HVAC installation.
We can design, supply and fit a complete kitchen ventilation system to suit your kitchen and cooking layouts. Most installations comprise of a canopy over the cooking equipment which is then connected to an extract fan and ductwork to discharge externally. Fresh air make up is usually mechanically provided and is either distributed via the canopy or through separate distribution grilles in the ceiling.
We can also design and provide a quotation for the gas supply to the cooking equipment (LPG or natural gas), the gas interlock required to the ventilation system and also the hot and cold piped water services.
Typical projects include high-end residential, complex listed buildings, small residential, wine cellars, swimming pools, conservatories and apartments.
Residential heating systems
Heating can be provided using the equipment previously described in the comfort cooling section, there are however more traditional heating only systems available as follows:
We can install new or replace existing gas, LPG and oil fired boiler plant serving 'wet' type heating systems such as radiators, LPHW fan convectors and under floor heating. The boiler plant can also be used for producing the primary source for heating the buildings domestic hot water supply, as an alternative the hot water can be produced using a direct fired, gas, oil or LPG storage heater.
We can install all types of warm air heaters from domestic to industrial installations. We use Lennox warm air heaters for the smaller type domestic or office installations as they produce the most efficient condensing type burners, these units can also be fitted with cooling coils to provide heating and cooling if required. For the larger industrial and commercial installations we use Powrmatic heaters, these type of heaters can be free blowing or connected to ductwork, suspended from the roof structure or floor mounted or mounted externally. We can also replace any existing faulty or inefficient rooftop AHU/package unit with a bespoke roof top system; this can connect to the existing ductwork, gas and electrical supplies avoiding the need to replace complete systems, saving money and internal disruptions.
As an alternative to warm air we can supply and fit radiant tube heating systems, these are generally installed in buildings with large internal volumes and high air change rates, such as warehouses etc.
We can supply and fit Daikin Altherma or Mitsubishi Ecodan air to water heat pump systems, these systems can be installed in new domestic applications or retrofitted into existing traditional wet systems providing the heating and hot water primary sources.